Olympic (1911-1937)
Statistics
These statistics are derived from NRP Bonsor, North Atlantic Seaway, 5 vols, David & Charles, 1975-80. White Star is covered in volume 2.
Gross Tonnage - 45,342 tons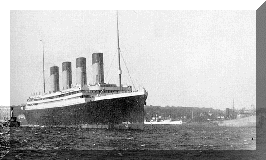 Dimensions - 259.83 x 28.19m (852.5 x 92.5ft)
Number of funnels - 4
Number of masts - 2
Construction - Steel
Propulsion - Triple screw
Engines - Combination of eight triple-expansion reciprocating engines
and steam turbines.
Service speed - 21 knots
Builder - Harland & Wolff, Belfast
Launch date - 20 October 1910
Passenger accommodation - 735 1st class, 674 2nd class, 1,026 3rd class
Details of Career
The Olympic was launched on 20 October 1910 and made its maiden voyage from Southampton to New York on 14 June 1911. Later that year, on 20 September, the Olympic was rammed by the cruiser HMS Hawke in the Solent which had attempted to pass astern and hit the Olympic abreast the mainmast, starboard side. The ship went to Belfast for repairs but was out of action for six weeks. As the result of an enquiry into the collision the Olympic was found to blame as its speed and size had sucked the Hawke off course. It was able to resume normal service on 30 November 1911.
In February 1912 it was overhauled at Belfast and a new propeller was fitted. After the loss of the Titanic and the ensuing court enquiry had been published several changes were made to the ship. During 1912-13 the Olympic returned to Harland & Wolff for six months safety rebuilding. The double bottom was extended up the sides to the waterline, full height bulkheads were fitted, as were additional lifeboats. As a result of this the ships tonnage was increased to 46,359 tons. The Southampton to New York service was resumed on 2 April 1913.
In August 1914 it was requisitioned as a troopship. In October it unsuccessfully attempted to tow the mined and sinking battleship HMS Audacious in to Loch Foyle. In September 1915 the Olympic resumed trooping duties after being dazzle painted and fitted with 6 inch guns. During 1916 it was twice missed by torpedoes in the Mediterranean. On a third occasion, on 12 may 1918, the Olympic avoided a torpedo attack off the Lizard and then rammed and sank German submarine U-103. The survivors were picked up by the escorting American destroyer.
After this the ship was involved in the repatriation of Canadian troops. By the end of the war the Olympic had carried over 200,000 troops and steamed some 180,000 miles. Next it sailed back to Belfast to be refitted by Harland & Wolff. It was converted to oil burning engines thus reducing the engine room staff from 246 to 60. The passenger accommodation was also
re-styled to accommodate 750 1st class, 500 2nd class and 1,150 3rd class passengers. On 25 June 1920 it returned to the Southampton-Cherbourg-New York service.
On 22 March 1924 it was involved in a collision with the Furness Line ship St.George whilst leaving New York. However, there was only minor damage to the stern post. In January 1928 the passenger accommodation underwent further alterations. In 1929 it briefly ran a new 'Quick-trip' service, along with the Majestic, between New York and Halifax.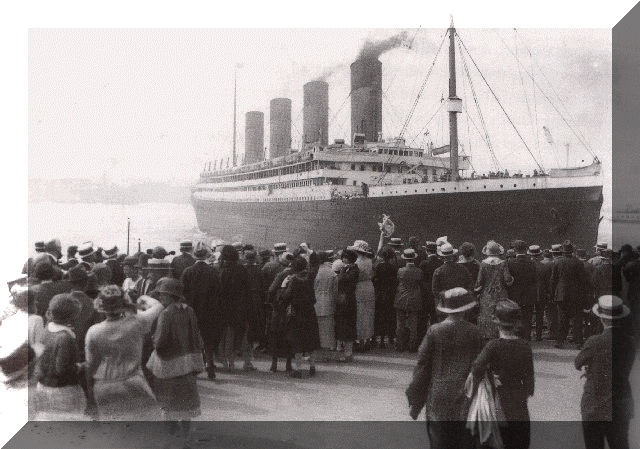 On 10 May 1934 the Olympic became part of the newly formed Cunard-White Star Company. On its first voyage for its new owners the ship rammed and sank the Nantucket Lightship in fog. The accident killed eight people. On 27 March 1935 the ship made its last voyage on the Southampton to New York route and on its return it was laid up at Southampton. In September it was sold to Sir John Jarvis for £100,000. It was then resold to Metal Industries for breaking on the condition that it was done at Jarrow in order to relieve unemployment there. On 19 September 1937 the hulk was towed to Inverkeithing for final demolition.